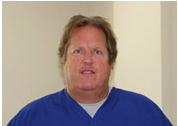 Our President and Founder
Thomas Dalsey CPO FAAOP Director Lic #1000
Thomas "Tom" Dalsey is a board-certified member of the American Academy of Orthotists & Prosthetists. He is a select member of the Association to accomplish the distinguished honor bestowed upon an individual in the field, a fellow FAAOP for academic achievement. Tom has previously served on the evaluation team for the American Board.
With exceptional clinical and practical skills, his artistic ability sets his custom work apart from the competition. 30 plus years experience, continual education, passion, care and reliability is Tom's personal commitment to his patients!
Our Commitment and Facilities
Pro Fit is a full service facility certified by the American Board of certification in orthotics and prosthetics specializing in state-of-the-art custom-made appliances
In order to meet the needs and satisfaction of each patient we provide quality appliances and maximize functional capacity.

With more than 30 years experience in the custom orthotics and prosthetics industry, Pro-Fit brings you the quality of service that you've come to expect with all of your orthotic and prosthetic needs.
Remember, your Rehabilitation Team is going to be your best and ongoing source of information as you go through rehabilitation.
Caring and reliability truly does count when it comes to successful patient care. We take pride in our individualized service Homecare program and emergency service availability
Goal ~ by bridging the gap between you your doctor and therapist we are committed to ensuring you a better quality of life.
Billing procedures ~ we except Medicare Medicaid and most commercial and private insurance. Or friendly staff will pre-certify and file claims
Facilities and parking ~ We have handicap accessible exam and fitting rooms as well as ample handicap parking
Office hours ~ Appointments are scheduled Monday through Friday 8:30 AM to 4:30 PM emergency appointments are available upon request